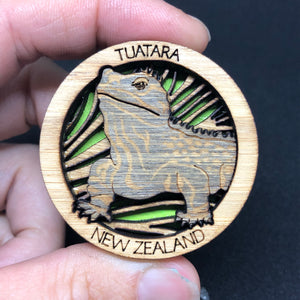 Tuatara HotSpot
Regular price
$8.00
$0.00
Unit price
per
The oldest known fossils of Tuatara date back 180 million years to the Jurassic age, and these medium sized reptiles are the only remaining species from this time. Tuatara are only found in New Zealand. They are nocturnal, enjoy cooler weather and have a third eye on the top of their head. Their name derives from Maori and means 'Peaks on Back'.
Our Tuatara HotSpot features a Tuatara just emerged from his burrow in a grassy woodland scene.
The Tuatara is available in Scenic, Mini-Scenic and HotSpot sizes, all made from three to eight layers of 3mm bamboo, finished with water-based paints, stains and varnish then laminated together to create a beautifully unique framed animal scene.
HotSpots are 45mm round magnets featuring three layers of 3mm bamboo and housing a strong ceramic magnet.
Our products are currently on sale in a handful of outlets in New Zealand. It is important to us that stores are a good fit for our products - if you have a gift shop or gallery that seeks quality NZ made goods and caters to the tourist market we'd love for you to get in touch!
You can sign up for a wholesale account here>>>
---
Share this Product
---